Happenings
Dec 08, 2008 09:05 ET
Guests of Dearborn's York House Share the 1920's-Era Bed & Breakfast Appeal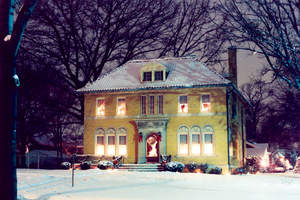 York House Bed & Breakfast in Dearborn, Michigan
DEARBORN, MI–(Marketwire – December 8, 2008) – The York House stands quietly majestic on the attractive tree-lined street of a west Dearborn neighborhood. Built as a private residence in 1925 by Thomas York, the home was converted to a Bed and Breakfast (B&B) in 1985 by proprietor and hostess Joan Schnell.
The York House is open year-round for overnight reservations and as a venue for small group events and parties. Schnell has maintained the 1920's atmosphere with authentic decor throughout the three private guest rooms, parlor and dining room. The B&B's web site, www.yorkhousedearborn.com, features descriptions of each room along with twenties' vocabulary such as swell, nifty, and keen. The upstairs bathroom, which was once a chapel, also has a unique history.
Schnell enjoys sharing the home's stories with the many guests who visit from nearby and throughout North America.
Retirees William and Pat Wohlford of Bettendorf, Iowa, stayed at the York House for a couple of days in October to get away from their many volunteer activities and to visit The Henry Ford.
"We've stayed in many B&Bs in Europe and throughout the U.S., but this was the first time that a hostess has given us a parting gift — a snack bag to enjoy on our way home," said Mrs. Wohlford. "Joan is a very gracious hostess."
Linda Freimann of Clinton Township acknowledges being a more frequent visitor and has stayed at the York House on various occasions since 1996. "For me, it's close to the airport, 'clean, clean, clean' and very
attractive," said Freimann.
A call to the Detroit Convention and Visitors Bureau and a subsequent referral from Jackie McClure, a Dearborn Chamber member and owner of JCI Design, brought Dina Rabadi of Chicago to the York House this past summer. It was Rabadi's first trip to Dearborn for the purpose of doing field research for a novel she is writing. She won a grant from the Vogelstein Foundation which allowed her to make the trip and spend several days in the community.
"Joan made me feel very welcome, and her home is gorgeous," said Rabadi. "The details are all so well thought out."
A longtime resident of Dearborn, Schnell easily directs her guests to the many local attractions. Always seeking new ways to entertain, she recently hosted a murder mystery, "Bye Bye Bugsy" — naturally, with a twenties theme and authentic attire.
"This is more than a business; it's a way of life I truly enjoy," said Schnell, who has mentored others who are interested in opening a B&B.
For overnight accommodations or to host an event at the York House, call 313-561-2432. For more information visit www.yorkhousedearborn.com.
Media Contacts:
Joan Schnell
York House
313-562-2432
Email Contact
Margaret Blohm, APR
Margaux & Associates, LLC
313-406-3467
Email Contact